Author Tracey Hecht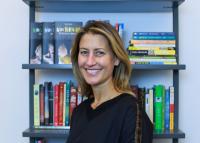 The Slithery Shakedown (Level 2)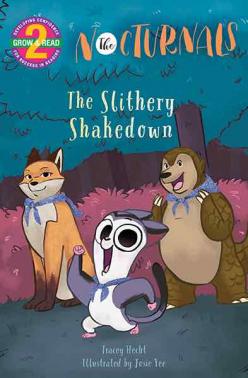 Grow and Read, HC
Hardcover | 64 pages | 6 x 9 inches | 978-1944020163 | April 10, 2018
In The Slithery Shakedown, the Nocturnal Brigade: Tobin, Bismark, and Dawn stand up to a big bully snake. In the process, they find themselves some spec-tac-u-lar snakeskin capes!

Bonus Content: Fun Facts about animals and
their world.
Illustrator: Josie Yee

6 x 9 • 64 pages with color illustrations throughout
Fountas & Pinnell: Guided Reading Level: M
Lexile Ranking: 440L • Grade Level Equivalent: 1-2 Interest Level by Grade: Pre-K to 3rd


What People Are Saying
"A pangolin, a red fox, and a sugar glider are together again in their second nighttime adventure in the series… Short sentences and much repetition throughout assist early readers as they gain a sense of accomplishment on completing this six-chapter book… The vocabulary words likely to be new to readers are introduced, including squatted, haunches, shimmery, slithered, and summoned… Beginning readers will enjoy this tale and will cheer on the threesome who defeat a bully by using their words." ​
—School Library Journal
"The series addresses bullying and empathy in an easy, accessible way, and the books are meant to be read aloud."
—New York Post
"Young readers will enjoy this spectacular story that is perfect for reading aloud in the classroom, library, or at home. The adorable artwork is engaging with a touch of silliness that is sure to bring a smile to the reader's face… Children can gain the concept of teamwork, the virtue of courage, and the love of reading just by flipping through the pages of this exciting book."
—Children's Book and Media Review
"This beginning reader does a good job of addressing the idea of being afraid and being brave…The illustrations have a charming folk art-like quality that may appeal to fans of animal picture books. Because the events all take place at night, the palette is an unusual teal-based one that is quite attractive."
—YA Books Central
"The Nocturnals does not disappoint. Designed for stage two readers—kids just learning to read independently—this tale uses plenty of important vocabulary words, easily decipherable within context, while showing how friends who stick together can facedown even the meanest bully. A blue-bellied snake decides that Bismark, the loud but tiny sugar glider, will make a perfect snack, causing the usually docile Tobin, a pangolin, to unsheathe his impressive claws, ready to come to Bismark's defense, and Dawn, the mysterious fox, to join their united front. The snake admits defeat and slithers away, leaving behind its skin, which the Nocturnal Brigade promptly fashion into capes and scarves. Vivid illustrations pop off crisp white pages. Brief sentences in an oversize font, separated by plenty of white space, won't overwhelm nascent readers. This successful endeavor manages to maintain the spirit of the original series while showing respect for new devotees."
—Booklist
"A quirky, humorous book great for beginner readers, with fun illustrations…a great bonus at the end of the book is the fun facts about nocturnal animals."
—Story Monsters
"I don't tend to gravitate to early readers because they can be awfully boring. This book breaks the mold. It's fun and engaging, and my son loves reading it. I frequently catch him looking through the pages and staring at the pictures."
—Unleashing Readers
Hardcover | 64 pages | 6 x 0.5 x 9 inches | 978-1944020170 | April 10, 2018
Also available as...