Author Tracey Hecht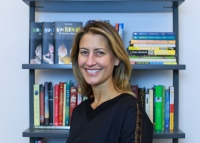 The Mysterious Abductions, PB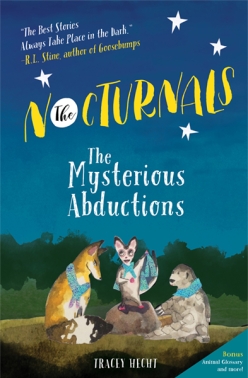 The Nocturnals Book 1
Paperback | $8.99 | 229 pages | 5 x 8 inches | 9781944020026 | April 11, 2017
Lexile 530L | Fountas & Pinnell S | AR Quiz Available!
Listen to a Chapter:
Perfect for fans of Wish, Pax, and Wild Kratts! The Nocturnals is a fun-filled chapter book series about three unlikely animals who solve unpredictable mysteries with friendship, teamwork, and humor.

In the first book, The Mysterious Abductions, animals are disappearing without a trace—and it's up to Dawn, a serious fox, Tobin, a sweet pangolin, and Bismark, a pint-sized sugar glider, to find out why. With the help of a gentle wombat, a jittery jerboa, a band of coyotes, and some kooky bats, the Nocturnals journey to the depths of the earth and play a wacky, high-stakes game that will determine their survival.

GREAT FOR READERS AGES 9-12
Perfect for kids who like unusual animals and science!
Now an AR Quiz
Full-color illustrations at the start of each chapter
Bonus Book Content: Nonfiction Animal Glossary, Author Q&A, and Book Club Questions.
Download complimentary printable activities on our website: animal mask crafts, bingo, word games, discussion questions, and Common Core Language Arts and Next Generation Science educator guides.

READ ALL FOUR ADVENTURES WITH THE NOCTURNALS
In the second chapter book, The Ominous Eye, Dawn a serious fox, Tobin a sweet pangolin, and Bismark a pint-sized sugar glider investigate a sudden jolt that cracks the earth! They meet a mysterious reptile, a tuatara, who claims the beast who caused the crack may strike again. But can this tuatara be trusted? The Nocturnals team up with a fun array of forest animals to uncover the truth!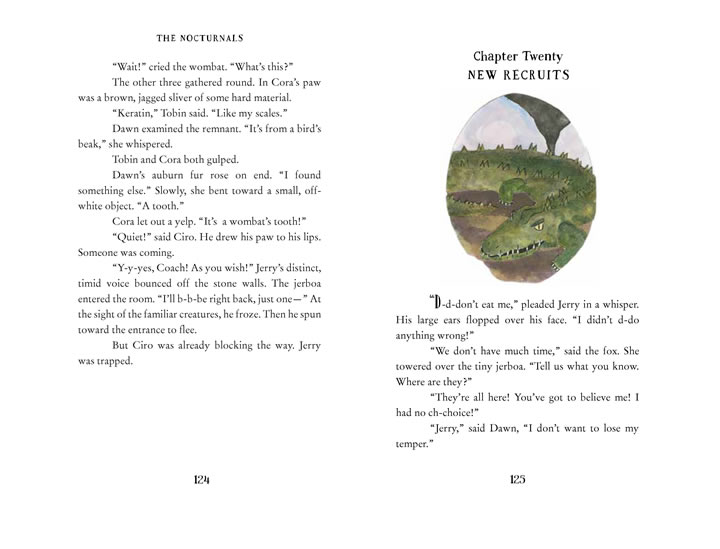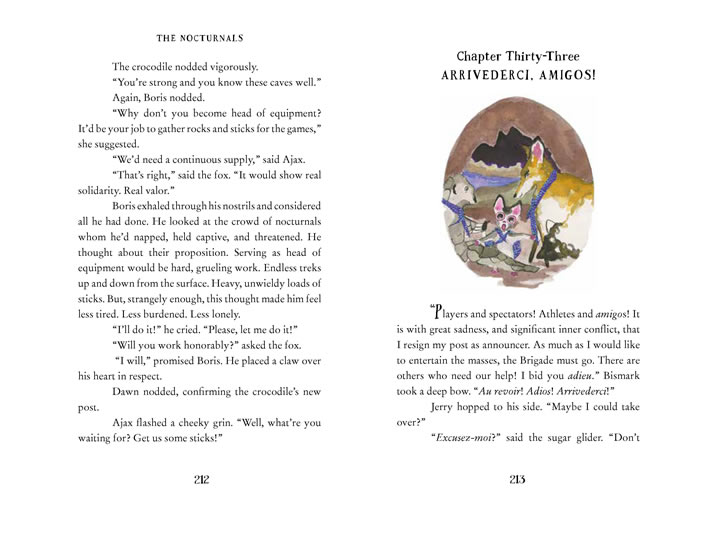 What People Are Saying
"A delightful adventure about the power of uncommon traits and the joys of newfound friendship."
—Kirkus Reviews
"The characters are humorous and well developed, and the fast-moving plot features intrigue, unexpected twists, and the innovative hybrid hockey game. Accessible to upper elementary while sufficiently sophisticated for middle school, this new animal fantasy series should prove popular."
—Booklist
"Fabled Films Press Partners with NYPL on Read-Aloud Initiative: The novel, which introduces three unlikely animal friends who team up to combat forces threatening their nighttime world, is the cornerstone of the publisher's middle-grade read-aloud and writing program with the New York Public Library."
—Publishers Weekly
"Tracey Hecht's first novel is an appealing page-turner for middle-school readers, combining a likable cadre of unusual animal characters with fast-paced, clever dialogue and, of course, plenty of suspense."
—BookPage
"This is an adventure worth reading, filled with excitement, danger, suspense and surprise. Each chapter begins with a small illustration and the language is clear and easy to understand."
—School Library Connection
"Funny, smart, and clever, The Nocturnals is the ideal series for any animal-loving adventurer. The fast-paced mystery will pull readers in and the fun animal facts will teach them something new. Nocturnals fills an all too-important niche of enjoyable stories with an educational twist."
—Amy Brabenec, Brookline Booksmith, Boston, MA
"The characters are charming and the story is well-crafted… The Nocturnals will be enjoyed by kids who like intrigue, environmental issues and animals."
—Kris Vreeland, Once Upon a Time, Montrose, CA
"The Nocturnals has a great core group of characters with a funny back and forth that is very appealing. I love the fast pace with lots of action, as well as the facts about the animals sprinkled throughout (I learned a lot about creatures I had never even heard of!)"
—Karen Rosenthal, Children and Young Adult Events Coordinator, R.J. Julia Booksellers, Madison, CT
"A thoughtful pangolin, a chatty sugar glider, and a wise fox band together to form a Nocturnal Brigade. Their first mission is to find out what is happening to the animals that have been disappearing. They will search high and low, encounter questionable companions and engage in a game of nocs versus crocs until the mystery is solved. A charming story that will have readers anxious to revisit these characters on their next adventure."
—Lisa Fabiano, An Unlikely Story, Plainville, MA
"The Nocturnals is so sweet! What a great cast of characters! I found myself reading some parts aloud."
—Whitney Berger, The King's English, Salt Lake City, UT
"A charming, funny, and intriguing title for middle grade readers, produced with wonderfully quirky color art throughout, The Nocturnals tells the story of night-active animals who discover that their kind are suddenly going missing. The characters -- including a Pepe Le Pew-like sugar glider, a sweetly self-effacing pangolin, and a beautiful and wise soft-spoken fox -- work together to solve the mysterious disappearances. Readers are left wanting more stories about these unique characters and luckily there are more in the works!"
—Francine Lucidon, The Voracious Reader, Larchmont, NY
"Kids will love the adventures of Dawn the fox, Tobin the pangolin, and Bismark the sugar glider. Their wacky friendship (and snarky competitiveness) serve them well in their adventures and struggles against the dangers of the night. Sophisticated vocabulary ("Botanical beasts! Plants of pestilence!") and multilingual phrases pepper the critters' dialogue, and it's great to anticipate that several subsequent volumes will continue the Nocturnals' adventures."
—Cheryl McKeon, Book Passage, San Francisco, CA
"Tracey Hecht's middle-grade story features an appealing animal escapade, delightful dialogue, and humorous hijinks—making it a perfect choice for reading aloud, small group discussions, or independent reading. The engaging plot will reel in both reluctant and proficient readers as they root for the underdog in a winner-take-all sports competition."
—Cyndi Giorgis, Professor of Children's Literature, College of Education, The University of Texas at El Paso
"The Nocturnals will appeal to readers of The Magic Tree House series. Teachers and less experienced readers will love the short chapters and the easily followed plot structure. This book could also be used in the classroom for reader's theater as it is very dialogue heavy and there are so many characters with such varied personalities. I look forward to meeting other varieties of nocturnal animals."
—Mary Brown, Books Bytes & Beyond, NJ
"The Nocturnals invite us into a world a little dark, a lot funny, and enormously heartfelt. These friends are brave and affectionate and I rooted for them as I bit my nails. The fact that they are a fox, a pangolin and a sugar glider makes it all the more delightful."
—Beth Albrecht, Magic Tree Books, Oak Park, IL
"What do you get when you combine a gassy pangolin, a loud-mouth sugar-glider, a wise fox, a fearful wombat, 4 chattering bats, and 3 fearsome wolves? The Nocturnals! Avengers of the night! My goodness! Mon dieu! This hilarious, informative, and heartwarming story of friendship and honor will intrigue any young reader interested in animals or who just wants a great read"
—Chelsa Lauderdale, Mrs. Dalloway's, Berkeley, CA
"What a fun read-aloud! My two kids were excited to climb into bed each night and continue the adventure with the Nocturnal Brigade. High praise, indeed, we all know what bedtime is like without a great book."
—Deirdre Birmingham, Watchung Booksellers, NJ
"If you've got a kid who loves animal stories (especially starring animals other than the "usual suspects"), or mysteries, or funny books, or books about hockey (yes, hockey!), this is the novel for him or her."
—Debbie McLeod, Children's Literature Professor, Johnson County Community College, Kansas
"Bringing together a crew of nocturnal creatures -- many of the animals unfamiliar to me, but that was part of the fun -- Tracey Hecht succeeds in drawing in the reader in as they battle for freedom from a team of menacing crocs and their leader, Boris."
—Karen Kessel, Librarian at Colleyville Elementary School, Colleyville, TX
"An enjoyable romp with cinematic flair and bold, eccentric characters joining together for a perilous journey."
—Allison Gray, Santa Barbara, California Library System
"Middle grade readers will devour this animal fantasy/melodrama filled with action aplenty, punctilious puns, and charming characters— a mix of brains, heart, and bravado."
—Stephanie Bange, Educational Resource Center Director, Wright State University
"This adorable animal adventure will have readers laughing over Bismark's enthusiastic confidence, quickly befriending sweet Tobin, and admiring fierce Dawn. Each character is one you won't soon forget!"
—Samantha Randolph, Staff Reviewer at YABC
"An unforgettable nighttime adventure about friendship and teamwork. The Nocturnals is a tale of how a brave group of unlikely woodland friends come together to solve the mysterious abductions of their fellow animal friends."
—Katie Bartow, founder of Mundie Moms and Mundie Kids
"Animal lovers will adore this quirky, adventuresome menagerie. With distinct voices and heavy doses of humor, this is one book that begs to be read aloud."
—Shara Zaval, Editorial Manager, Kidsreads.com
Paperback | 229 pages | $8.99 USD | 5.5 x 8.5 inches | 9781944020026 | April 11, 2017
Also available as...