Author Tracey Hecht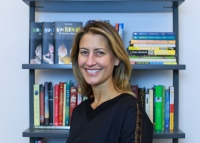 The Kooky Kinkajou (Level 3)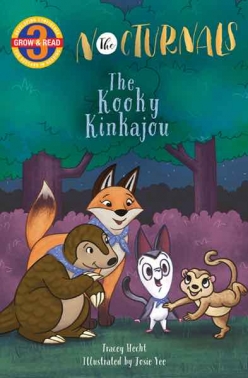 Grow and Read, HC
By Tracey Hecht
Published by Fabled Films Press
Hardcover | 12.99 | 64 pages | 6 x 8 inches | 9781944020255 | September 3, 2019
Lexile 500L | Fountas & Pinnell L
"This gentle adventure supports newly independent readers" —Booklist

The Nocturnals 8-book Early Reader Collection encourages kids at all reading levels who like adventurous stories featuring unusual animals.

In this adventure-filled Level 3 Early Reader, Bismark the wacky sugar glider is bored! He complains to his friends, Dawn the serious fox and Tobin the sweet pangolin. So when Karina the kinkajou comes along, she shows the Nocturnals how to use their imaginations to cure boredom!

GREAT FOR BEGINNING READERS AGES 6–8
Teaches Life Skills: Imagination and Accepting New Ideas.
Perfect for kids who like unusual animals and science!

Bonus Book Content: Nocturnals Fun Facts and Animal Glossary
Download complimentary printable activities on our website: Sight Word Games, Bingo, Common Core Language Arts Educator Guide, Social Emotional Learning (SEL) Activities, and More!

Read All 8 of the Nocturnals Grow & Read Adventures, including Level 3 Early Readers The Chestnut Challenge and The Weeping Wombat. These Beginning Readers introduce Life Skills such as Good Sportsmanship, Forgiveness, Empathy, and Expressing Feelings and Emotions.
NEW! Get The Nocturnals companion Grow & Read Animal Activity Book to extend the story with animal facts, coloring, drawing games, mazes, puzzles, and more! (Sold separately)
Illustrator: Josie Yee
Color illustrations throughout
Fountas & Pinnell: Guided Reading Level: L
Lexile Ranking: 500L • Grade Level Equivalent: 2-3
Interest Level by Grade: Pre-K to 3rd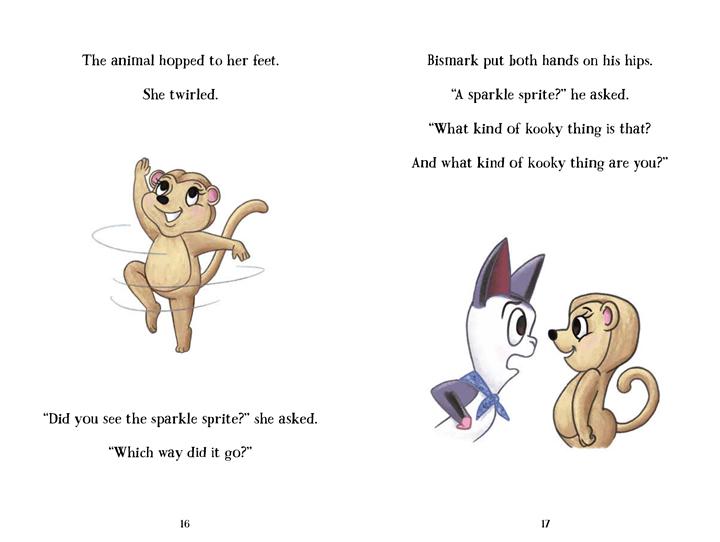 What People Are Saying
"This banter-filled early reader describes the initial meeting between shy Tobin the pangolin, brash Bismark the sugar glider, and kindhearted Dawn the fox…the pared-down narration and dialogue quickly establish their personalities, as does Singleton's cartoon artwork, which shows the characters striking expressive poses midconflict….Hecht and Dowling successfully set the stage for more adventurous outings down the road..." ​
—Publishers Weekly
"The series addresses bullying and empathy in an easy, accessible way, and the books are meant to be read aloud."
—New York Post
"Physical characteristics, personality quirks, and the beginnings of their mutual trust and friendship are aptly portrayed through both words and pictures. A few "Nocturnals Fun Facts" at the end should help with any factual queries. Whether listening, reading along, or launching individual attempts, satisfied readers will be ready and waiting for the next installment." ​
—Booklist
"A quirky, humorous book great for beginner readers, with fun illustrations…a great bonus at the end of the book is the fun facts about nocturnal animals."
—Story Monsters
"A pangolin, a red fox, and a sugar glider are together again in their second nighttime adventure in the series… Short sentences and much repetition throughout assist early readers as they gain a sense of accomplishment on completing this six-chapter book… The vocabulary words likely to be new to readers are introduced, including squatted, haunches, shimmery, slithered, and summoned… Beginning readers will enjoy this tale and will cheer on the threesome who defeat a bully by using their words."
—School Library Journal
"The Moonlight Meeting is cute and the whimsical illustrations by Waymond Singleton should help budding readers follow along and be encouraged to learn new words as they turn pages. Fun facts at the end should satisfy the interest of kids who are drawn to nonfiction. I highly recommend The Moonlight Meeting for readers aged 6 to 8 and their parents."
—Mother Daughter Book Club
"Young readers will enjoy this spectacular story that is perfect for reading aloud in the classroom, library, or at home. The adorable artwork is engaging with a touch of silliness that is sure to bring a smile to the reader's face… Children can gain the concept of teamwork, the virtue of courage, and the love of reading just by flipping through the pages of this exciting book."
—Children's Book and Media Review
Hardcover | 64 pages | $12.99 USD | 6 x 9 inches | 9781944020255 | September 3, 2019
Also available as...