The Nocturnals Animal Nonfiction Book Collection by Tracey Hecht

Connect Kids to the Science Behind the Series!


Explore Unique Nocturnal Animal Adaptations & Fun Facts with The Nocturnals.
New Browseable Nonfiction books by Tracey Hecht for Early Reader and Middle Grade Kids!



Early Reader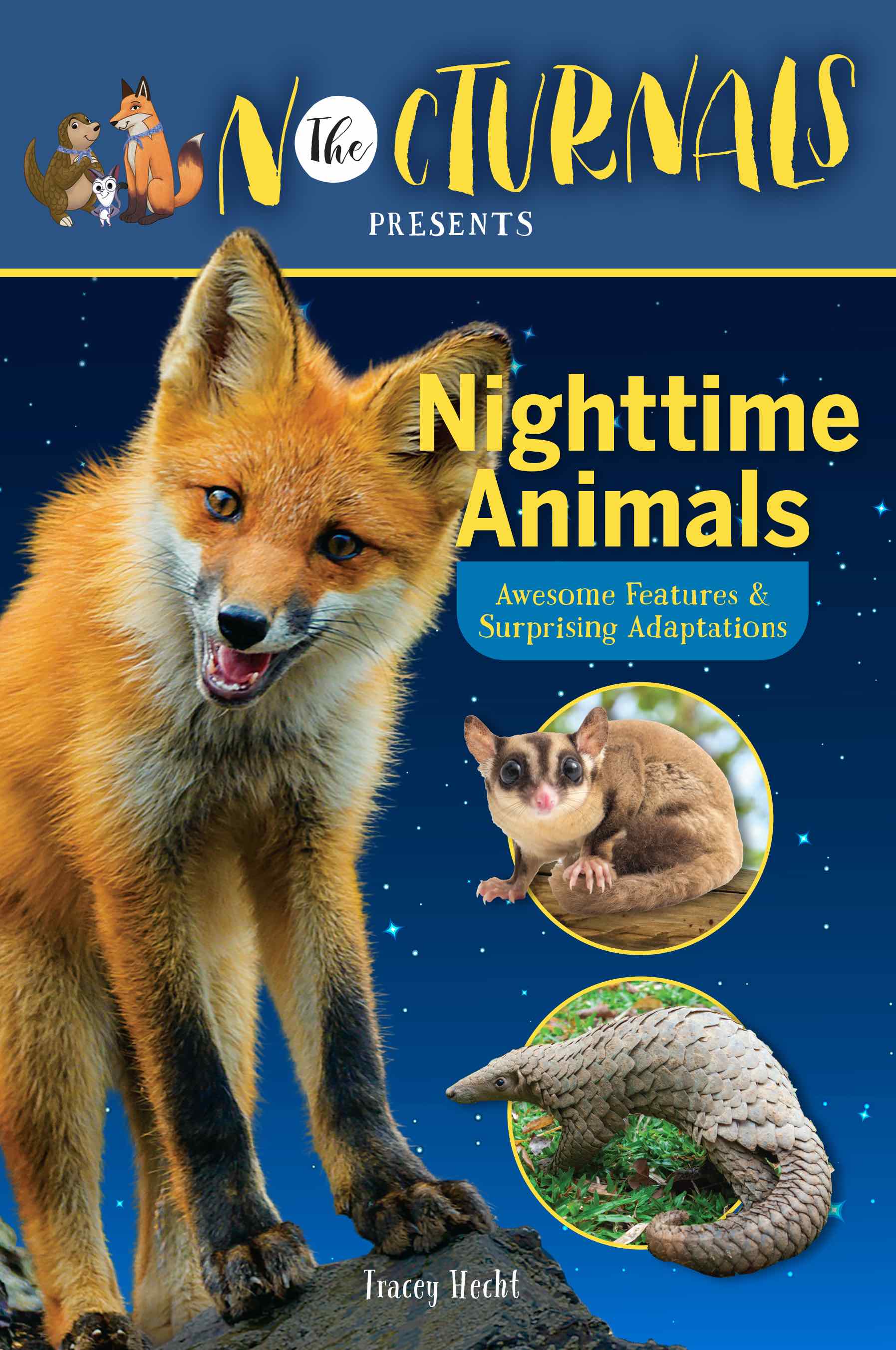 Early readers will learn fun facts about nocturnal animals and their unusual features and habitats. Using age-appropriate language, color photos, and a narrative from the Nocturnals characters, this companion nonfiction book introduces the awesome athletic abilities, sensational senses, and powerful protections of nighttime animals.

Animals Featured: sugar gliders, kinkajous, foxes, bats, snakes, possums, wombats, chinchillas, and pangolins!

Bonus Content: Fun Facts, STEM Word & Animal Glossary, and At-Home Resources
Free Printable Interactive Read Aloud Guide: Aligns to CCLA and NGS Standards

Award Winner! Children's Book Council Teacher Favorites 2023

Professional Reviews:
"Information covered includes a variety of unique adaptations that allow animals to survive in the dark, whether they are protecting themselves or finding food. Provided examples demonstrate how these animals differ from humans as well as from other animals. Numerous fun facts are shared...
VERDICT: A worthy addition to school and public libraries." —School Library Journal

"Exceptionally informative and fun, [the book] is especially recommended for family, elementary school, and community library Pets/Wildlife collections for children ages 6-8. " —Midwest Book Review

Hardcover ISBN: 9781944020712 | $13.99 | 64 pages | 6 x 9 inches | Lexile 740L | Fountas & Pinnell R | 62 4-color photos/character illustrations throughout | Also available as Paperback and eBook
---

Middle Grade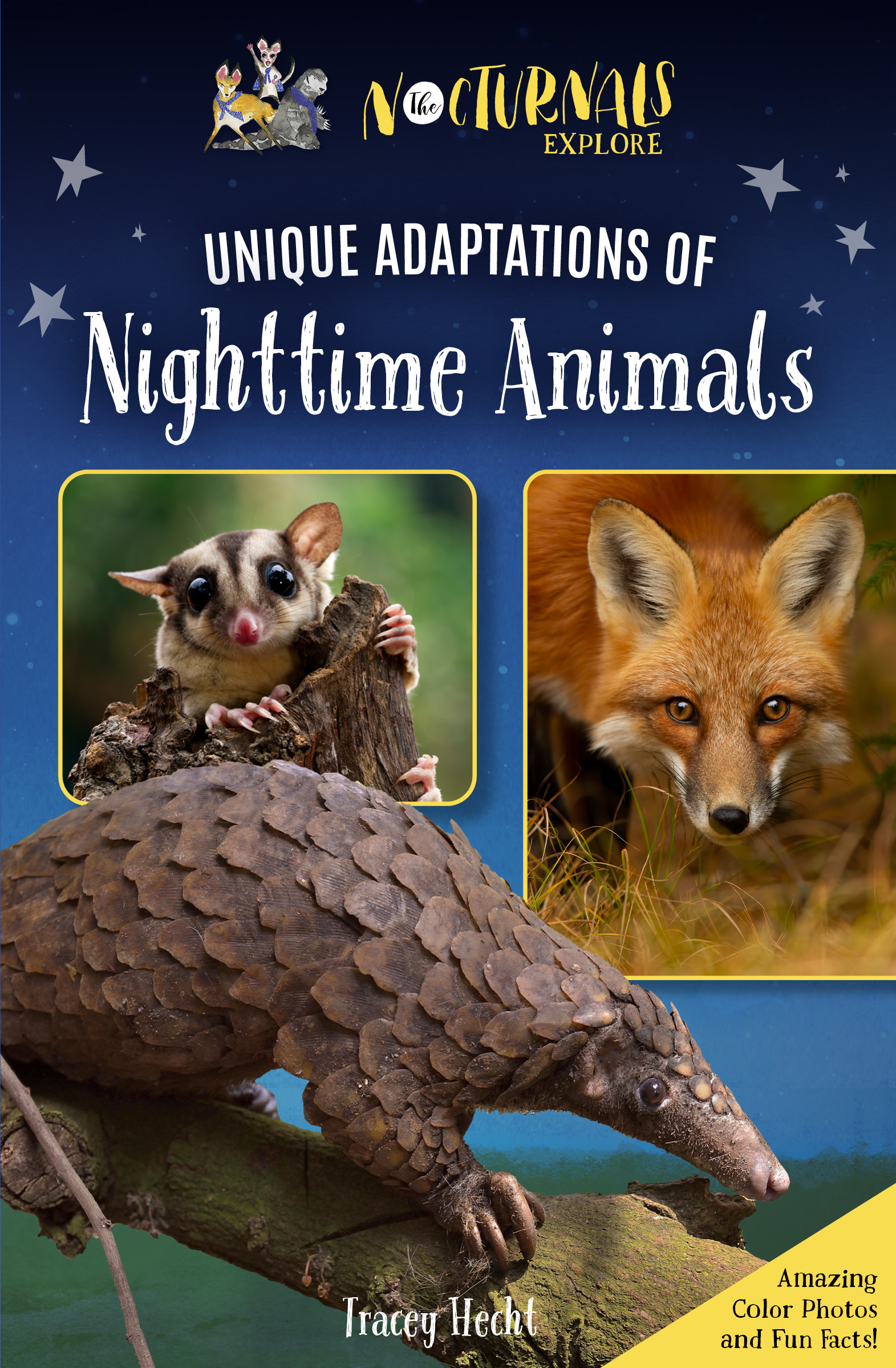 Discover the special adaptations that help nocturnal animals succeed in the dark. Using color photos, fun facts, and a narrative from the adventurous Nocturnals characters, this companion nonfiction book takes the reader around the world to investigate the adaptations of nighttime animals to their natural habitats.

Animals Featured: red foxes, pangolins, sugar gliders, wombats, woylies, bandicoots, owls, crocodiles, kiwis, tuataras, aye-ayes, jerboas, bats, vipers, coyotes and more!

Bonus Content: Fun Facts & Night Notes, Nocturnal Feature Icon Key, STEM Word & Animal Glossary, and At-Home Resources.
Free Printable Next Generation Science Guide: Pairs nonfiction with The Mysterious Abductions

Professional Reviews:
"[The] narration is accompanied by endearing color photographs and fun animal profiles...recurring visual cues draw attention to facts and tidbits to promote further exploration...a welcoming introduction to nighttime animals that celebrates biodiversity." —Foreword Reviews
"Language is informal and every short chapter includes mention, usually with photos, of animal babies (aww)...chewy vocabulary (crepuscular, cathemeral), explains the mechanisms of echolocation...and tucks further detail into a listing of further information on each animal, such as diet and habitat." —Kirkus Reviews
Hardcover ISBN: 9781944020736 | $14.99 | 128 pages | 6 x 9 inches | Lexile 930L | Fountas & Pinnell S | over 150 4-color photos/character illustrations throughout | Also available as Paperback and eBook