Author Tracey Hecht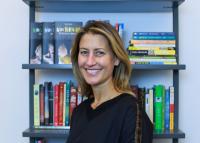 The Ominous Eye, HC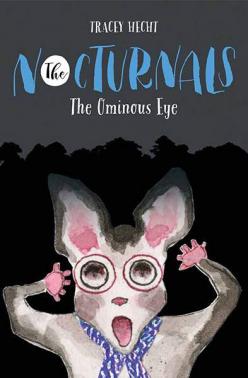 The Nocturnals Book 2
Hardcover | 208 pages | 978-1944020033 | July 11, 2017
Listen to a Chapter:
"The books celebrate the very meaningful idea of friendship and what it means to forge positive relationships."—Amy Poehler's Smart Girls
Join Dawn, Bismark and Tobin as they set out to investigate the source of a violent jolt that fractures the earth! Along their journey, the Nocturnal Brigade meets an unfamiliar reptile—a tuatara named Polyphema—who reveals that a giant beast caused the destruction and will soon strike again. Polyphema with her special insights, is the only one who can help the Nocturnal Brigade stop this fearsome predator… but can she be trusted? With help from an owl, the jerboas, and some kiwis, the animals set a trap since surrender is not an option against this relentless beast.

The Nocturnals is a critically acclaimed middle grade series about three unlikely friends—Dawn, a serious fox, Tobin, a sweet pangolin, and Bismark, the loud mouthed, pint sized sugar glider. Discover the friendships, teamwork, and humor, as the Nocturnal Brigade solves the unpredictable mysteries of the night.
Grade Level: 3-6; Age: 7-12

Bonus Content includes Animal Glossary, Author Q&A, Discussion Questions and full color illustrations at the start of each chapter (Ages 8-10)
Now an AR Quiz!
Visit the Nocturnals World online to download printable activities including makerspace crafts, word games, STEM projects, Bingo, language arts and science educator guides, and more!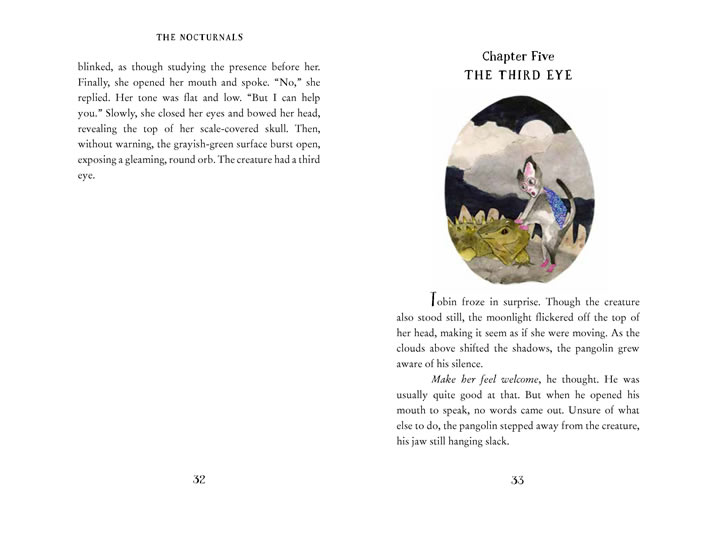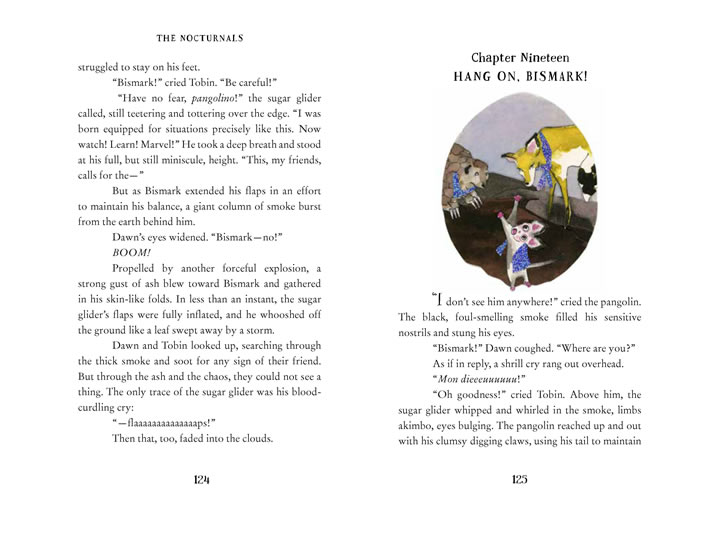 What People are Saying
"Hecht continues to charm readers with delightfully drawn characters and consistent suspense. Bismark's trademark, multilingual adulations fuel both Dawn's eye-rolls and readers' chuckles. Tobin remains cautiously adventurous. His quiet remarks and social perceptiveness ground Bismark's slapstick and elicit warmth from Dawn's cool leadership. Each animal, from the common to the exotic, shines with quirky personalities and endearing traits. A welcome return of the colorful and curious trio—their next can't arrive soon enough." (Fantasy. 9-12)
—Kirkus Reviews
"In this satisfying second installment...our heroes are there to save the day, and, as in the first volume, when they uncover Polyphema's underlying motives, learn about an important issue—this time, protecting endangered species. Returning fans will be rewarded with the expected engaging plot twists, plenty of humor, Bismarck's unrequited mooning over Dawn, and reaffirmation of the trio's mutual loyalty and friendship."
—Booklist
"The Ominous Eye explores how friendships can change, first (and second) impressions aren't always correct, and fear shouldn't stop you from doing what's right. Fans of The Nocturnals will devour this latest adventure with new characters and a thrilling mystery.
—Samantha Randolph, Staff Reviewer at YA and Kids Book Central (YABC)
"All the A's a reader could ask for! Animals, adventure, adversity, action... all the elements of a good book, no matter who the audience is. Recommending this book to readers of all ages to share.
—Magi Henderson, Glen Carbon Centennial Library, IL
"Nocturnals is a fun animal series. This second book introduces some conflict into the small group of friends, illustrating that teamwork doesn't always come easy, and that trust must be earned. Animal fiction fans will enjoy meeting more exotic animals in this book… This is a good follow-up to the first book, and yet newcomers to the series can jump right in without having read the first book (but read it – it's good!). Kate Liebman's color illustrations add to the text, giving the reader a nice frame of reference for some of these new animals he or she will meet during the course of the book."
—Rosemary Kiladitis, Mom Read It
"What a wonderfully unique book! The Nocturnals is the perfect blend of animal adventure and crafty mystery. Ms. Hecht gives us an opportunity to learn about Australia and nocturnal creatures while adding elements of friendship, teamwork, and playful humor. This book is a perfect read-aloud for parents and teachers with many opportunities to start engaging conversation. Heartwarming, clever and funny, The Nocturnals series is perfect to curl up with before bed. I can't wait for more in the series!"
—Katerina Argyros, Bookshop West Portal, San Francisco, CA
"It's the return of the Nocturnal Brigade! Join the dynamic trio, Dawn, Tobin and, my personal favorite, Bismark as they search for a mysterious giant beast who is threatening to destroy all the animals in the valley! Every aspect of Tracey Hecht's writing is delightful, from her rich characters to the surprising plot twists she weaves throughout her story. She's once again given us a page turning adventure we won't soon forget."
—Brandi Stewart, Changing Hands Bookstore AZ
"This is a great little adventure mystery story starring our beloved nocturnal animals. I absolutely love the animal characters in this book along with their capes. I can't wait for their next adventure. Highly Recommending."
—Holly Alexander, Barbara's Bookstores, IL
"Love this whimsical story of friendship, loyalty and conquering fear. Hilarious dialogue!"
—Susan Recker, Orinda Books, Orinda, CA
"Friendly, fun, enthusiastic. A truly great experience for me to meet the Nocturnal Brigade. Totally enjoyable! Thank you!"
—Laura Burgess, Countryside Library, Clearwater, FL
"It is fun to see the relationships between the friends continue to develop. Bismark teases Tobin about releasing his defensive scent every time he is scared, Dawn continues to roll her eyes at Bismarck's outrageous flirting, and Tobin wants everyone to get along. Highly Recommending."
—Suzanne Costner, Fairview Elementary School Library, Maryville, TN
"Hecht writes a novel that can stand on its own and allows readers to jump right into the series and backtrack later. The characters are each unique… the reader can't help but be invested in them. Even the so called "bad guys" have an element of sympathy and understanding about them that teaches young readers to think critically about how they treat the people around them and what might be going on in those "bad guys" lives... Hecht does a great job of tying together themes and morals centering around acceptance, understanding, and friendship."
—Jaclyn Bauer, Teacher and Blogger at Centered on Books, Englewood, CO
"As a teacher, I am always looking for material to bring into the classroom and I can always count on the latest Nocturnals to introduce a rare and really forgotten animal….I would recommend this book to librarians, classroom teachers, and all middle grade readers...The educational resources and interactive activities are so well planned and convenient."
—I'd So Rather Be Reading Blog
"There is color artwork at the beginning of each chapter which is very attractive, and not typically found in chapter books. Overall, this is an interesting story for readers who like their animal adventures on the exotic side."
—Renée Wheeler, Leominster Public Library, Leominster, MA
Hardcover | 208 pages | 978-1944020033 | July 11, 2017
Also available as...