Author Tracey Hecht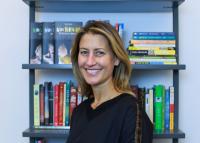 The Hidden Kingdom, ebook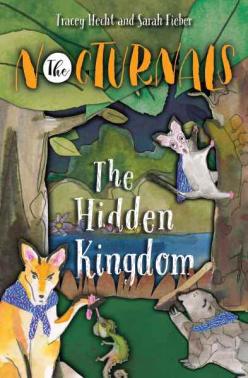 The Nocturnals Book 4
Ebook | 208 pages | 9781944020125 | February 6, 2018
Listen to a Chapter:

"The books celebrate the very meaningful idea of friendship."—Amy Poehler's Smart Girls

In the fourth middle grade chapter book, The Hidden Kingdom, animals in the valley start to trip on the crumbling ground beneath them, water disappears, and strange voices are heard. Everyone assumes the forest is under a spell. However, it's a group of veiled creatures—a chameleon, stick bugs, leaf bugs, and other assorted camouflaged insects—that are upset because they want the valley's recognition for their hard work in preventing a drought. The Nocturnal Brigade—Dawn, Tobin, and Bismark—solves this mystery and unites the forest.

GREAT FOR DISTANCE LEARNING!
Download the series's complimentary printable online activities at nocturnalsworld.com: animal mask crafts, bingo, word games, discussion questions, and Common Core Language Arts and Next Generation Science educator guides.
Bonus full color illustrations at the start of each chapter (Ages 8-10)

The Nocturnals is a critically acclaimed middle grade chapter book series following three unlikely friends—Dawn, a serious fox, Tobin, a sweet pangolin, and Bismark, a pint-sized sugar glider. Discover the friendships, teamwork, and humor as the Nocturnal Brigade solves the unpredictable mysteries of the night.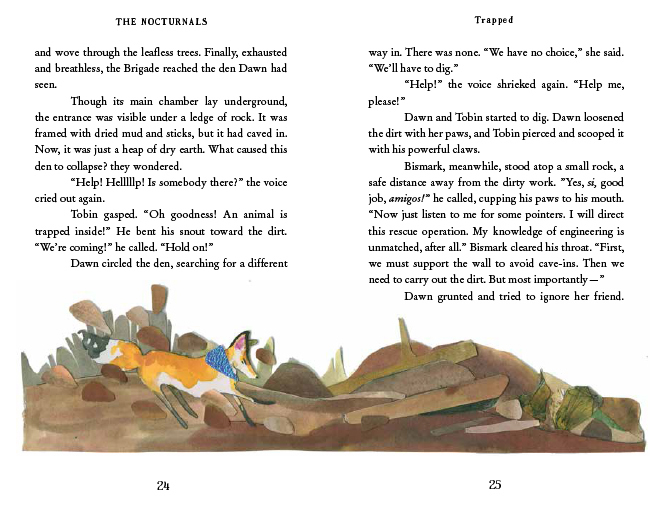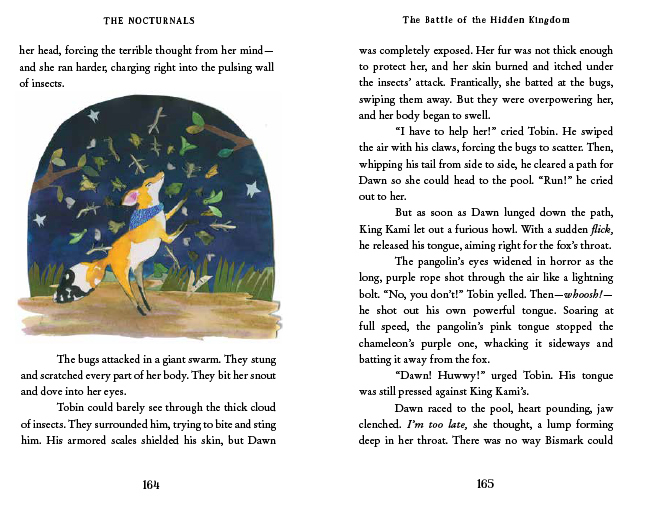 What People Are Saying
Wacky illustrations and another plot, that twists and turns and teeters with cliff-hangers, will keep fans enthralled.
—Booklist
The series addresses bullying and empathy in an easy, accessible way, and the books are meant to be read aloud.
—New York Post
This book is filled with challenging words that greatly improve vocabulary skills. This silly story has a good lesson underneath all the humor and adventure.
—Children's Book and Media Review
The theme of friendship continues to be the uniting thread in this series... good characters, great humor, and a nonstop sense of adventure will keep kids coming back for more.
—Rosemary Kiladitis, Queens Public Library, NY
"Five Things to Like About The Hidden Kingdom: 1. They make a good parallel to the feelings and emotions coming out in kids these days. 2. The story has the protagonist and antagonist eventually trying to understand each others motives. 3. Readers will be motivated to learn more about these three species with possible extensions to science, language arts, and foreign languages. 4. A balance of text and pictures—perfect for the reluctant reader and for reading out loud. 5. Even if you aren't a big fan of talking animal stories, this one makes you feel like you're reading a story about a group of your own friends."
—Always in the Middle
Ebook | 208 pages | 9781944020125 | February 6, 2018
Also available as...